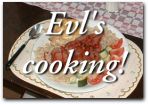 Makaroner/falukorv
Egg Mc Bacon
Korvstroganoff
Schnitzel
Makaroner/burgare
Köttgryta
Makraroner/knäppkorv
Spagetthi Bolognese
Potato gratang
Stuvade makaroner
---
Last updated:
October 19, 2001
---
Anders Eriksson
&nbsp
Köttgryta with rice
The first a bit more "exclusive" meal. Although it's not difficult to make, it takes a bit of time.
What you need to make this meal:

Veal ~170grams (calf meat). Cost: $1.2
Rice (20 min cooking), alot of it. Cost: $0.2
A bit of cucumber. Cost: $0.1
Plenty of milk to drink. Cost: $0.5
Sauce. Cost: $0.3
Some butter for fryingpan. Cost: $0.1
In total it costs $2.4 to make.

Coming up are some pictures to illustrate the cookingsteps.
---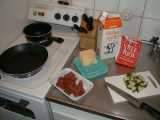 Booting up.

Bring out the meat, vegetables, flour (for sauce) and milk.

Hook up the usual hardware; frying pan, double sausepans (one for sauce, one for rice), spatula, knife etc.
---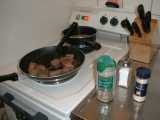 Frying.

Start with frying the meat in low temperature, let them do so for 10-15 minutes approx. Until they take the "light" brown colour you see on the pictures. Salt and pepper them well, too little of that and they get tasteless.
---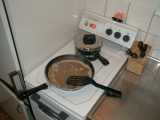 Cooking.

Just pour water into the fryingpan and let it cook (gently) for about 25-30 minutes, then you start to cook the rice.
---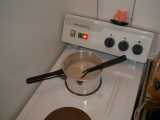 Sauce.

When the rice is done, take it off and start melting some butter in the other saucepan. When it melted add some flour and whip it into a "jelly" constistence. Then add the water from the fryingpan that you have been cooking the meat in, and also add some milk for extra taste. When it's getting warm, add the meat as well and let it cook for 2-3 minutes. Add more salt/pepper until it has the right taste.
---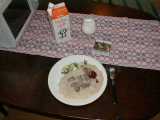 EOC (end of cooking).

Ha! It's time to eat, add a bit of jello on top if you like that. This tastes very good!
---
Made and photgraphed: June 12, 2000