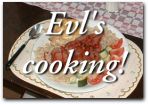 Makaroner/falukorv
Egg Mc Bacon
Korvstroganoff
Schnitzel
Makaroner/burgare
Köttgryta
Makraroner/knäppkorv
Spagetthi Bolognese
Potato gratang
Stuvade makaroner
---
Last updated:
October 19, 2001
---
Anders Eriksson
&nbsp
Egg Mc Bacon and Pommes frites.
McDonalds once had this on their menue (back in early 90's). It's the only one I ever liked from them! However, here is a cheaper, better tasting and most importantly, bigger version of it :-)
What you need to make this meal:

Pommes frites. Alot of it, no dinner is good if you're hungry after it. Cost: $0.7
90gram burger. Cost: $0.5
Burger bread. Cost: $0.4
An egg. Cost: $0.15
A tomato. Cost: $0.2
A bit of cucumber. Cost: $0.1
Plenty of Coca Cola to drink. Cost: $0.7
Heinz ketchup. Cost: $0.1
Some butter for fryingpan. Cost: $0.1
In total it costs $2.95 to make.

Coming up are some pictures to illustrate the cookingsteps.
---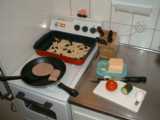 Software and Hardware.

Get everything on place, pommes, tomato, egg, bacon (we use low calorie bacon here; taste better, doesn't shrink as much) and a bit cucumber.

No burgers without hardware! We've loaded up with a fryingpan, knife, spatula and an owenform, that'll do the trick.
---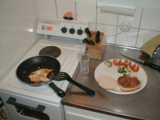 Doing it

Heat up the owen to circa 250 degrees celcius. After approx 5 mins, start the fryingpan plate and do the burger, bacon and egg. 15 minutes later the pommes are ready, and hopefully so are you with the three things. While working with thr burger, slice the tomato and cucumber. Do a couple of this slices for the burger :-)
---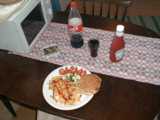 Ready!

Yep, we're done. Really good it is too. Add some spiceys if you prefer, and of course we have to drink Coca Cola to this meal, no junk food without it.
---
Made and photgraphed: May 30, 2000