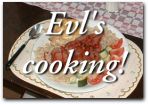 Makaroner/falukorv
Egg Mc Bacon
Korvstroganoff
Schnitzel
Makaroner/burgare
Köttgryta
Makraroner/knäppkorv
Spagetthi Bolognese
Potato gratang
Stuvade makaroner
---
Last updated:
October 19, 2001
---
Anders Eriksson
&nbsp
Marakonis with burger and sause
Ok, I guess that I'm alone of liking this ;-) Sause on makaronis seems to be generally hated.
What you need to make this meal:

Makaronis (~10 min cookingtime). Make a big load. Cost: $0.2
90gram burger. Cost: $0.5
A bit of cucumber. Cost: $0.1
Plenty of milk to drink. Cost: $0.5
Sauce. Cost: $0.5
Some butter for fryingpan. Cost: $0.1
In total it costs $1.9 to make.

Coming up are some pictures to illustrate the cookingsteps.
---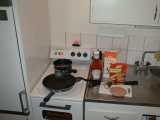 Starting up.

Bring out the burger and start heating up the water.

And as always, no food without hardware: Fryingpan, sausepan (used for both makaronis and sause, we're lazy and doesn't want alot of dishes!), spatula, knife and other essitionals.
---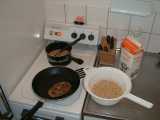 Sauce.

Pour away the makaronis and bring out the premade sauce, it's dead easy todo, 2 dl milk, 1 dl water and mix it. Heat it up until it boils then take it off and let it cool off for a couple of minutes.
---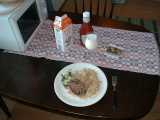 Done!

Yes, here it is, very good! Although I'm probably alone of thinking that. Actually, some ketchup on this adds even anohter dimesion, try it! :-)
---
Made and photgraphed: June 09, 2000