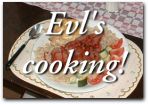 Makaroner/falukorv
Egg Mc Bacon
Korvstroganoff
Schnitzel
Makaroner/burgare
Köttgryta
Makraroner/knäppkorv
Spagetthi Bolognese
Potato gratang
Stuvade makaroner
---
Last updated:
October 19, 2001
---
Anders Eriksson
&nbsp
Marakonis with sibylla knäppkorv
This is the easiest to make so far! It's done in 10 minutes and doesn't cost much at all. "Knäppkorv" is a superb sausage made for cooking. There's nothing like a few sibylla knäppkorvs a cold winterday :-)
What you need to make this meal:

Makaronis (~10 min cookingtime). Make a big load. Cost: $0.2
3 knäppkorvs (preferably sibylla). Cost: $0.7
A bit of cucumber. Cost: $0.1
A can of pearjuice. Cost: $0.3
A little bit of heinz ketchup. Cost: $0.1
In total it costs $1.4 to make.

Coming up are some pictures to illustrate the cookingsteps.
---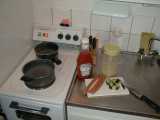 Ready, set..

Makaronis, cucumber, juice and sausages. Yep, no fryingpan needed, only two saucepans needed, or one if you cook makaronis and sausages in the same one, there is a risk the sausages get overcooked then though.
---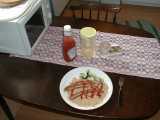 ..go!

Yeah, from the start until the end is only 10 minutes! It's not that bad to eat either.
---
Made and photgraphed: June 13, 2000