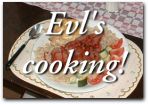 Makaroner/falukorv
Egg Mc Bacon
Korvstroganoff
Schnitzel
Makaroner/burgare
Köttgryta
Makraroner/knäppkorv
Spagetthi Bolognese
Potato gratang
Stuvade makaroner
---
Last updated:
October 19, 2001
---
Anders Eriksson
&nbsp
Makaronis and Falukorv
This is a traditional swedish meal.
It's cheap, easy to make, gives little dishes and most important it tastes very well!
Falukorv is a big swedish sausage originally manufactured in the town of Falun, Dalarna. It's about 6-8cm in diameter and has a red skin. The sausage itself is more light coloured than red though.
Falukorv can be cooked in several ways, here we will take a look at the simplest and most common way; frying slices of Falukorv.
What you need to make this meal:

Makaronis (8-10 min cookingtime). Take a big load of them so you won't stay hungry after dinner. Cost: $0.2
Falukorv. Take a big bite of it (see reason above). Cost: $0.5
An egg. Cost: $0.15
A tomato. Cost: $0.2
A bit of cucumber. Cost: $0.1
Plenty of milk to drink. Cost: $0.5
Heinz ketchup. Cost: $0.1
Some butter for fryingpan. Cost: $0.1
In total it costs $1.85 to make.

Coming up are some pictures to illustrate the cookingsteps.
---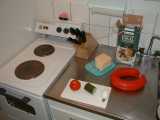 The first step

Gather the ingredients. Makaronis, falukorv, egg, tomato and cucumber.
---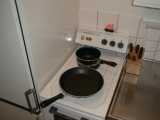 Hardware

You can't code without any hardware, and cooking is the same. Here's what you need to go thru with this meal:
- Fryingpan for the falukorv and egg
- Saucepan for cooking the makaronis
- A knife for slicing the tomato, cucumber and falukorv
- Spatula
---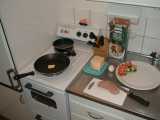 Slicing

While the water is heating up, slice the falukorv into 4-8mm thick slices, slice the tomato and the cucumber. Six slices of the tomato and doing the cucumber in "cubes" is easy todo. When the water is starting to boil, start heating up the fryingpan.
---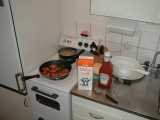 Cooking part 1

Here we're in full action. The falukorv slices are finished at one side, and just have the right colour now. Crispy, still not overdone. The makaronis are cooking for full life and has been going about 4 minutes.
---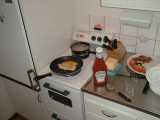 Cooking part 2

The falukorv is done, and we're doing the egg, at about turning time for the egg, take away the makaronis and pour away the water. If needed, add a little butter to the makaronis if they "stick" together. When the egg is done, we're ready for the next point..
---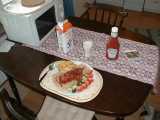 Eating!

Yep we're finished. About 12 minutes from when we started. Quite a quick session!

Anyway, cu later.. it's time for falukorv..
---
Made and photgraphed: May 30, 2000